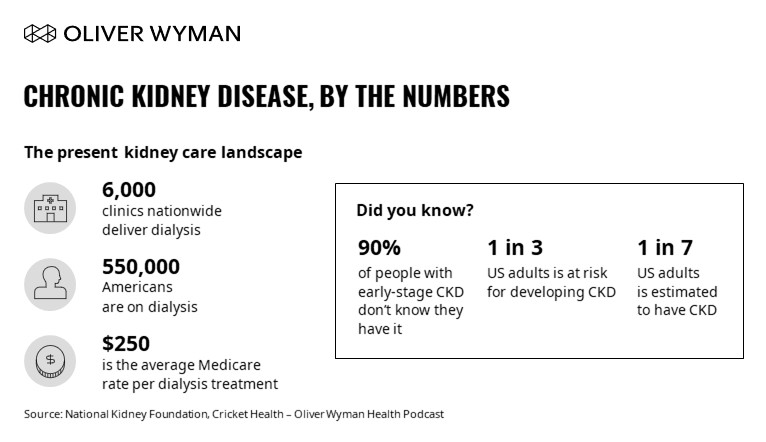 With a single dialysis session costing thousands of dollars for commercial insurance plans, the health care industry has come to a breaking point with the kidney care status quo. Kidney care simply has not been working well for anyone. One in three American adults is at risk for chronic kidney disease (CKD); 9 out of 10 people with early-stage CKD don't know they have it; and it is also the 9th leading cause of death in the United States.
People are not getting the care they need to stay healthy. Providers are stretched thin. And for payers, kidney disease has become one of the costliest conditions to treat. 
But how did we get here? Cricket Health's CEO Bobby Sepucha recently joined Tom Robinson, a partner at Oliver Wyman, for a podcast conversation on the broken state of kidney care in the U.S. and how Cricket Health is working to change it. 
Ultimately, too little is done to prevent people with kidney disease from progressing to kidney failure, and too much emphasis is placed on driving people to in-center dialysis. The road to today's situation began with an important policy decision in the 1970s. 
Before dialysis was invented, kidney failure was a death sentence, and when dialysis began in the 1960s, it was too expensive for widespread use. In 1972, the government decided to make all Americans with kidney failure eligible for dialysis through Medicare. This decision was lifesaving for thousands of people, but it also had unintended consequences.
The decision put a "pot of gold" in the dialysis setting, so that's where all the focus and development went. Since then, 6,000 dialysis clinics have opened in the United States, making dialysis optimization the primary focus of renal care. This intensive focus on dialysis, however, meant that little attention was paid to the tens of millions of people with earlier-stage kidney disease. 
Cricket Health is changing the focus in kidney care, starting with early identification of those with CKD. By using a machine learning algorithm, Cricket Health is able to use insurance data to identify those at risk for CKD without a lab test.
"We can predict with greater than 90 percent accuracy not only if someone has CKD, but what stage they are at," Bobby said. "We generally find 50 percent more members with kidney disease than plans expect."
By identifying CKD early, Cricket Health helps individuals avoid "crashing" into kidney failure via the ER and starting dialysis unexpectedly. Once an individual is diagnosed, they can enroll in the Cricket Health platform to learn about their diagnosis, understand the disease, and get stage-appropriate interventions.
This all happens under the watchful care of a personalized care team that stays with the individual through their entire care journey. These nurse-led care teams include a doctor, pharmacist, dietician, and peer mentor, all of whom help the member with their diet, exercise, medication management, education, and overall well-being. By working with a multidisciplinary team, individuals have far more opportunities to learn and optimize their behavior for their best health than in the traditional model of infrequent nephrology visits with minimal support between appointments.
Cricket Health's approach helps people better manage their CKD, making them healthier when they eventually reach end-stage kidney disease (ESKD). This empowers individuals to receive dialysis in-home rather than at a care center, as well as making them a much better candidate for a transplant. 
Chronic disease management requires time, attention, and coordination. Until now, CKD patients have too often been overlooked, harming their long-term health and leading to avoidable medical expenses.
As Cricket Health grows, adding new patients every day, that is changing: kidney care is getting the time and attention it deserves.