Cigna, Nov. 15, 2021 – Too often, people with kidney disease do not have the support they need to live their best lives possible. In fact, many experience kidney failure without ever knowing they had kidney disease. To help address this health care challenge, we launched a collaboration with Cigna last year to help diagnose kidney disease earlier and provide personalized, high-touch, and digitally-enabled support for Cigna customers.
We are pleased to report that our first year of collaboration was successful across multiple measures including: a reduction in hospitalizations for those with kidney disease, an increase in Cigna customers starting dialysis at home, and an increase in Cricket's NPS score to 89 — an extremely high mark of patient satisfaction. Building on these results, we are expanding our collaboration, including an investment from Cigna Ventures. In addition, while our collaboration began in California, we will work toward offering the MyCricket™ platform to other suitable markets across the United States.
A single nephrologist may be providing care to 80 to 100 people on dialysis, which leaves a gap for people living with kidney disease who have not progressed to dialysis or those who need preventive care. To help close gaps in care and provide more regular health care touchpoints, Cricket Health works with Cigna participating network nephrologists and primary care providers to offer education, support, and personalized guidance between doctors' appointments. Frequent customer engagement tends to lead to a better understanding of their condition and more confidence when it comes to making better care decisions, which can lead to a better quality of life for individuals with kidney disease.
Each Cigna customer enrolled in the Cricket Health program has a multidisciplinary care team that includes a nurse, pharmacist, peer mentor, and other providers as needed. Customers work with their care team virtually by using a computer, smart device, and phone. This interactive, digital platform is flexible and meets the changing needs of customers as they transition through both life and disease stages, and creates a seamless experience that can help them better manage their condition, make the most of their doctor visits, and gives them the knowledge and skills they need to maintain a high quality of life.

Study Results: Fewer Hospitalizations, Lower Medical Costs
Within the first year of program deployment, Cigna's enrolled customers saw a more than 45 percent reduction in hospitalizations. Additionally, of the Cigna customers who completed Cricket's education program, 100 percent made a choice other than in-center dialysis for their end stage kidney disease (ESKD) treatment, and 63 percent began dialysis treatment in an outpatient setting, lowering overall medical spend for these Cigna customers*. Starting dialysis outside the hospital has significant benefits, including greater scheduling flexibility and reduced costs**.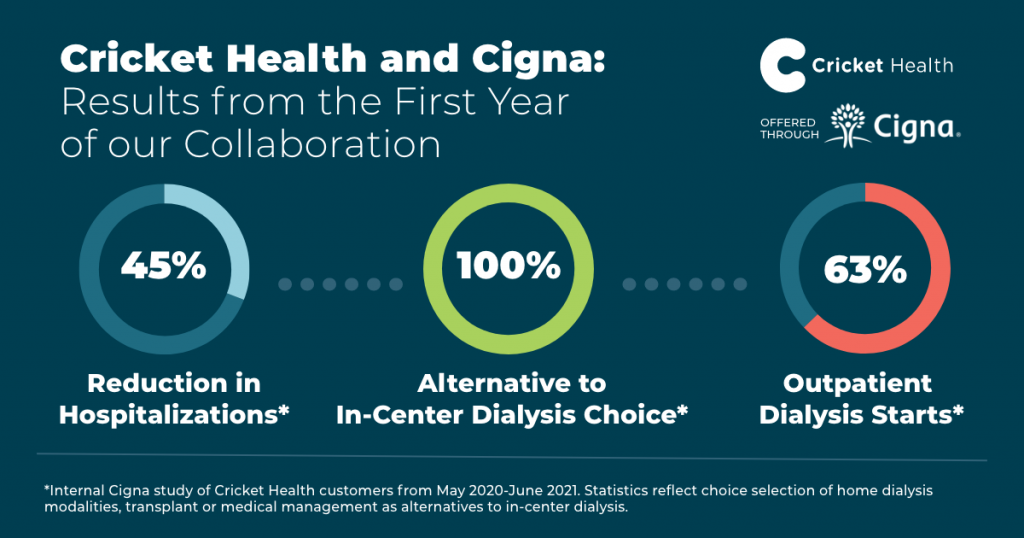 Patients on home therapies have also reported higher quality of life ratings in several domains and higher satisfaction with their care overall***.
Among enrolled Cigna customers, the first year of the collaboration included more than 7,000 clinical interactions; 1,000 peer mentor interactions; and over 2,250 views of educational content and videos, according to Cigna's internal study of Cricket Health customers from May 2020 to June 2021*.
"In my experience as a nephrologist, I realized that our health care system was not serving patients with kidney disease in a holistic and comprehensive fashion. That is why it is a high priority for Cigna to provide customers with kidney disease patient-centered care that meets them where they are based on their disease management needs," said Dr. Rajesh Davda, Senior Medical Director, Cigna. "Our work with Cricket has allowed us to provide these customers with affordable, predictable, and simple care that not only addresses their health needs but is improving their quality of life and health outcomes."
"Cricket Health has helped me with my nutrition and fitness, and they've helped show me how managing my weight and my blood pressure connect to my kidney health," said Cigna customer Tad W. "Living with kidney disease isn't easy, and I'm grateful for the support."
"Managing kidney disease is difficult, and our mission at Cricket Health is to make it easier for both patients and their nephrologists," said Jason Yow, General Manager for Cricket Health in California. "When we identify disease earlier and engage our multidisciplinary care teams, patients appreciate the personalized care they receive, and nephrologists are able to extend the care they provide."
The Cricket Health model is designed for and has demonstrated impact across commercial and Medicare Advantage populations, as well as nephrology practices. Learn more about how we use our evidence-based approach to help us improve kidney care outcomes and lower costs for our customers here.
Sources:
*Internal Cigna study of Cricket Health customers from May 2020-June 2021.
** Based on comparison of Cricket Year 1 Program results and national average as reported in Figure 1.2. United States Renal Data System. 2020 USRDS Annual Data Report: Epidemiology of kidney disease in the United States. National Institutes of Health, National Institute of Diabetes and Digestive and Kidney Diseases, Bethesda, MD, 2020
***Chuasuwan, Anan, et al. "Comparisons of quality of life between patients underwent peritoneal dialysis and hemodialysis: a systematic review and meta-analysis." Health and quality of life outcomes 18.1 (2020): 1-11.
Juergensen, Erika, et al. "Hemodialysis and peritoneal dialysis: patients' assessment of their satisfaction with therapy and the impact of the therapy on their lives." Clinical Journal of the American Society of Nephrology 1.6 (2006): 1191-1196.