Supporting providers to improve patient outcomes
Clover Health Medicare Advantage members have access to a kidney health support program where Cricket Health's interdisciplinary team works to reinforce your clinical messaging while helping your patients stay on track with their specific care plan.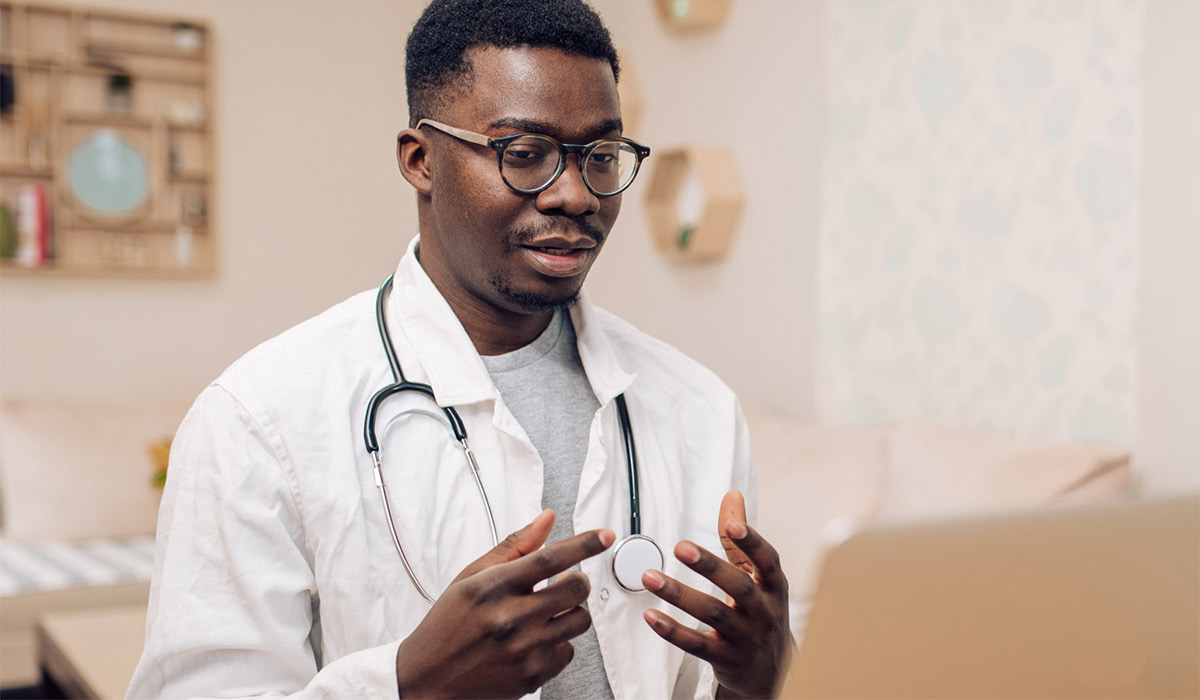 Together we can transform lives
Cricket Health works alongside Clover Health providers to drive patient engagement and help them adhere to their care plan, relieving clinical burdens you may feel. This shared approach enables patients to remain engaged with their treatment plan with the help of a team that's accessible virtually or by phone. This type of extra at-home support empowers patients to make more educated decisions about their care and better manage their health.

We are your eyes & ears
Cricket Health's frequent touch points encourage patients to follow the care plans you provide while continuously reinforcing your messaging through our virtual platform or by phone between appointments with you.
We keep you informed on our shared patients through clinical report updates and escalate any urgent matters that arise.

We save you time
The Cricket Health team reinforces the importance of following your care plan through education, monitoring, and peer support.

We help your practice efficiency
Educating patients on their disease state and reinforcing the importance of following their care plan leads to fewer phone calls to your practice and improves the efficiency of your appointments.

We help improve adherence
Our frequent touch points empower patients to understand their disease state, what treatment options are available, including home modalities, how to manage their medications, or dietary needs.
Working together we can improve patient outcomes
Our interdisciplinary team works alongside you to help your patients stay as healthy as possible between appointments. This approach keeps patients more engaged with their care, improves outcomes, and brings a higher quality of life to your patients as they navigate every step of their kidney care journey.
The MyCricketTM platform matches eligible patients with a nurse, dietitian, pharmacist, social worker, and others. They also have 24/7 access to educational resources and a community of others going through a similar experience.
What providers are saying
"I have a patient I saw Friday who said his insurance company contracted with Cricket, and that he received a helpful phone call counseling him about his elevated potassium level!"
"So glad we have your support, as appointments with Nephrologists are scheduling are far out."
"You [Cricket] have a very high-touch model of care which is needed for this patient population."
"I could say without reservation that Cricket has been a great partner in the clinical care for our patients."
What MyCricket™ members are saying
"I am 1.5 years post transplant from a family donor. I have been with Cricket since before the transplant. I put off receiving a transplant and survived with a GFR of 5% for quite a while until I needed dialysis for a month before the transplant. Cricket has been an amazing lifeline, especially when you feel like you're the only one who has been through this.
"Thank you [Cricket] for the proactive nature of the team. They are always keeping me accountable with follow-up calls and questions."
Videos were helpful and concise. They are well-done, informative, and easy to keep up with. Other people's questions covered most of mine, FAQs were very helpful and give lots of information.
I've been on cricket only a few weeks but I have found everyone has given me prompt responses and have been helping me get on a good kidney regime. You are doing a great job, thanks.
I'm not actually a candidate for dialysis yet. My numbers aren't quite low enough. It is good to know, however, that when I have to cross that bridge, I have someone to speak with about it. The site has so far been very informative for me and to be honest, just reading about everything is helping me come to terms with it all.
I am so thankful for the site. I was so scared that going to the center was our only option for dialysis. I enjoyed the videos and am happy talking with my mentor.
This group has been very helpful and I am thankful that my doctor set me up here. I recently had a PD catheter placed and was able to go into surgery well informed on the procedure, pain expectations and recovery. It was just as I was told. Not bad at all. I read everything and it's nice to know that I am not crazy for thinking and feeling the way I do sometimes. I see that it is part of the progression of CKD. Thank you all.
Truthfully, I never expect anything from anyone that they are not willing to give. I have always felt this is my fight, and I try to shield those nearest to me from my pain or bare my burden in silence. I find about 99% of my support right here, where others understand exactly what I am going through and for that I am truly thankful.
It's so great to have this group to take refuge in, who are compassionate fellow travelers to be with, as we navigate each of our journeys to hold onto a bit more of life.
Who would have thought I would live to see 2020. I am blessed and Cricket and your team are a part of that... THANK YOU!
When I go onto the chat lines to talk to the nurse, social worker, and the pharmacist—they have all been fantastic. I couldn't give you guys a high enough rating. From 1-10, I gave you guys a 10.
Please know that I appreciate your entire team. Everyone is responsive and helpful. I know that I probably haven't taken advantage of as much as I should, the idea that a group of professionals is available at the sending of an email is appreciated more than you know.
Cricket Health and all of the medical professionals who support us here have been invaluable helpful. I'm very grateful! I love Cricket.
Cricket has been a great comfort to me as I have traveled this journey. The information and peer support is absolutely invaluable. Cricket is a place where everyone cares about you: a safe place to ask all the questions you forgot (or were too embarrassed) to ask and share you real feelings. You are not alone.
I got transplanted and was able to avoid dialysis with help from our dietitian on Cricket.
If you are wondering, 'Should I get involved?' I would like to let you all know you could not be with better, more compassionate and truly caring people. Everyone here went above and beyond helping and supporting. THANK YOU is so insufficient.